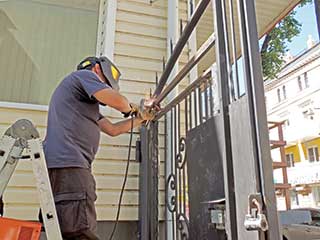 The first thing visitors see when they arrive at your home or business is your gate. Our company takes great pride in ensuring that the gates we install make a great first impression. There is a wide variety of options available to you, from wrought iron frames or wooden panels to different phone entry systems and opener models. We understand how important it is to combine excellent reliability and functionality with top-notch curb appeal, and we always provide our customers with the best of both worlds.
Choosing Your New Gate System
Our first step is to understand exactly what you need. Our technicians will assess your property's situation in order to help you choose the right type of gate. For instance, swing gates are an excellent and reliable system that doesn't require tracks; perfect for driveways installed close to your garden. However, they also require a lot of lateral space to move in, and may not be ideal for every home.
Which Material Is Right For You?
Once you've decided on the right type of gate, we'll look at the many material options available to you. Each material will have different requirements and different strength. For example, a wooden gate will offer a classic beautiful look, but will need regular repainting. Steel panels will provide extra security thanks to their durability, but they can also rust and will need to be treated appropriately. We can find the perfect match for your home or commercial property, providing everything from wrought iron frames to custom made gates.
Fast and Thorough Installation
We pride ourselves on offering the very best customer service around. We handle the installation process from start to finish, so we can guarantee a high level of workmanship throughout. Our technicians will thoroughly test your gate once it's in place, so we can ensure your new system works perfectly from day one.
Contact Our Team Today
A new gate is an excellent addition to any home or business, especially one that increases property value as well as the safety and security aspects. To start planning for your new automatic system, simply get in touch with our team at Gate Repair Bronx today.
We also take care of:

Automatic Gate Repair

Parking Garage Gates

FAAC Gate Opener

Doorking Gate Intercoms