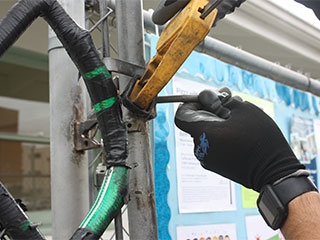 There are few things worse for your daily life than a gate that won't open. Not being able to get into or out of your home or business is a serious problem that you shouldn't have to live with for any length of time. A gate that won't close properly, or one without working safety features or a remote control, creates other complications. If your system encounters a problem of any kind, get on it quickly and give us a call!
Mechanical Repairs and Maintenance
Broken bars, rusted hinges, and dented tracks can bring your gate to a literal screeching halt. So too can jamming or breakages of the electrical motor parts inside of your gate opener box. With some welding tools, steel wool sponges, and industrial lubricant, our technicians can repair whatever's bent or broken, or replace the damaged parts with fresh ones from our extensive stock.
Electrical Solutions as Well
Like any electrical machine, an automatic gate can suffer from faulty wiring, fuses, or batteries. Some subsystems, such as old-fashioned wired intercom devices, are especially prone to power or control failures because of their long lengths of vulnerable wiring. Our technicians will look inside your opener, check your power supply, and replace any fuses or wires that require it.
Remote Control and Other Features
Wireless remote control, intercom, and other radio-based systems can have reception or transmitting issues, or have their signals interfered with by something else in the area. Safety systems, sensors, lights, and even cameras come in all shapes and sizes, and many can be brought down by wiring, software, or mechanical issues. Whenever our team pays a visit, they'll end the job with a full run of tests to make sure any problem with any of your gate subsystems has been discovered and addressed.
Contact Us Whenever You Need Some Help
Gate Repair Bronx offers skilled repairs and high quality replacement parts at reasonable prices, anywhere within the city and its surrounding areas. Don't wait for your gate problems to get worse. Call us today.
Want more? Let us take care of:

Security Gate Repair

Wrought Iron Gates

Eagle Gate Opener

Aiphone Gate Intercoms