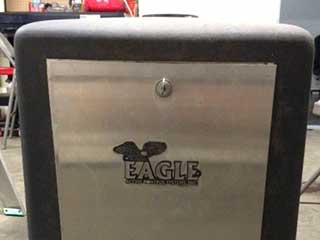 The opener, also called an operator, is the electromechanical device that actually pulls the gate open and closed. Since there are several different types of gates that open in completely different ways, no one style of this motor unit can work for every system. It's important to understand which one is right for your mechanism and what the advantages and potential disadvantages that each one offers.
Sliding, Swinging and Lifting
Sliding gate openers are located to the side of the system, and they usually use a chain, a telescoping rod or a jagged rail and a spinning cogwheel to move the panels or the frame. Because of the way they work they won't be any use if they're attached to, say, a swing gate. This type of mechanism often uses one or more robot arms in order to open automatically, and those are attached at either the middle or the bottom of the panels. A lifting gate operates similar to a garage door, and often uses a combination of springs along with an electric opener.
Check The Weight
The most important thing to look at when you're choosing an electric gate opener is its weight limit. Larger systems and ones made of denser materials like iron or steel will be heavier, and will require a more powerful unit. Lifting and swinging systems are also more power intensive than sliding ones, as the wheels of the latter help reduce the load. Make sure you know how heavy your gate is, and that the opener you're interested in can do the job without wearing itself out in a month.
Brands You Can Trust
Unfortunately, not every product on the market is of equal reliability, and not all automatic gate opener manufacturers are equally honest about what they're selling you. The bigger names in the industry – LiftMaster, FAAC, and All-O-Matic, for example – are more likely to be trustworthy. If you're considering a less well known manufacturer, make sure you do plenty of research, or consult with our professionals to ensure you're making an informed decision.
Gate Experts Near You
There's a lot more to learn about these automatic security systems. Feel free to read more of our blog posts to increase your knowledge base and get some free advice about various related topics. If you need something installed or fixed, give our team at Gate Repair Bronx a call and let us know how we can help you today.