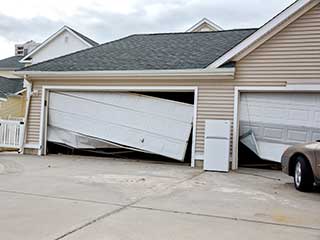 Needless to say, being unable to use your garage door when you need to is very annoying. Trying to repair the mechanism yourself can be very dangerous, as there are all sorts of moving parts involved, some of which can cause serious injuries. When faced with such an issue, you need to get in touch with our professional team, who know exactly how to repair any type of problem your automatic garage door may experience.
Opener Not working
There are myriad reasons why your electric garage door opener suddenly stops working. From motor gears that broke to a circuit board that starts to glitch or lost the connection to some wires. Even the photo eye sensors, whose job it is to ensure the safety of you and your family members, can become misaligned and fail to detect obstacles properly. Dealing with these issues will require the help of a professional, if not for the dangers involved then to avoid exacerbating the problems.
One Of The Springs Broke
Did you just hear a loud BANG coming from your garage? Was the door moving when that happened? If so, chances are that one of its springs just broke. These units are under tremendous stress on a daily basis, and it's only a matter of time before they snap. This will most likely render your door inoperable, and trying to force it to open would be very dangerous. Broken spring replacement and adjustment are two tasks our professionals here at Gate Repair Bronx specialize in, so if you find yourself dealing with a problem like this one, be sure to give us a call.
Your Team For The Job
Don't get disheartened when you find yourself dealing with unexpected garage door repairs. That's what our expert repair technicians are here for. All you need to do is reach out to us and our service specialists will quickly be on their way. Broken cables and damaged panels don't stand a chance against our team. It's hard to beat the professionalism and reliability of our same day service guarantee.