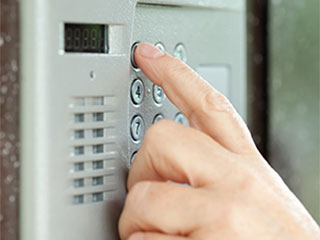 A phone entry system can give you complete control over who comes in and out of your gate, without you having to physically go there to let them in or out. If you're having a new gate installed or an old one replaced, you'll also want to think carefully about setting up the intercom system that works best for your needs.
What Can Go Wrong
Intercoms are very reliable, thanks to their simplicity, but problems can occasionally still happen. If you use a wired phone entry system, the cable connecting the gate to your house can be damaged or disconnected. Wireless systems don't have this problem, but their signals can be disrupted by the layout of your house or changing weather conditions, and models with smart features can sometimes develop software issues. Of course, any device you choose can also be damaged by dust or moisture if it isn't adequately sheltered.
Picking A System
There are a variety of models on the market. Some devices use a physical wire to connect them to the control system in your house. Other, more expensive, intercoms work wirelessly, and can even be connected to and controlled from your very own smartphone. A phone entry system may also come with other special features, such as a video camera that lets you see as well as hear through the system, or remotely activated lights.
The Failure Points
Intercoms can be brought down by physical damage to the mechanism attached to the gate. If you use a wired system, the cable connecting it to your house can be stripped, torn, or pulled loose. Wireless systems are generally more reliable in that aspect, but they are still vulnerable to signal interference, software problems, or (in the case of poorly secured smart systems) hacking.
Let Us Help
If you need a new intercom system installed, or if your current model is in need of repairs, Gate Repair Bronx is here for you. Our experts have years of experience dealing with all types of control systems, and our service is flexible and affordable. Give us a call today!