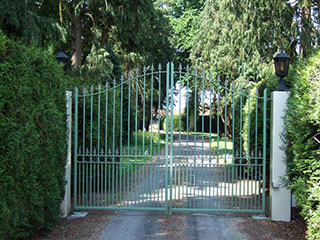 For such a large mechanism with such a simple function, the driveway gate comes in a surprising diversity of styles. Some slide along the ground, others swing open or shut, like a saloon door. Still, others are lifted off the ground and lowered again much like a garage door. They also come in a variety of materials and aesthetic styles, and if you're looking to have a new one installed, you can certainly benefit from understanding a little more about each of the common types.
Sliding Gates and Wheels
The most common type used today moves back and forth on a set of wheels or rollers parallel to the fence, sliding open or shut. Sliding gates are typically attached to their opener by a chain or a belt drive. These mechanisms tend to have the lowest power requirements, but their wheels and tracks can sometimes be the cause of breakdowns, and they require a lot of empty space on at least one side of your driveway.
Classic Swinging Gates
This type of system works like a driveway-sized door, swinging open and shut on a set of powerful hinges. Systems of this type are aesthetically appealing, but don't work for all driveways. In particular, if you don't have enough space behind or in front of the mechanism for it to swing open without hitting or blocking anything, or if your driveway has a slope that might get in their way, a swing gate might not be the best idea.
Vertical Lifting Gates
This type of mechanism is the most secure option, but also by far the heaviest and most power intensive, as well as expensive. It is typically used for industrial parks and other large commercial businesses, although it can have other applications as well. In addition to being very secure, a vertical gate is quite visually impressive. Make sure you always keep this type of system in good repair; you don't want it falling when you least expect it.
Different Building Materials
Driveway gates can be made from wood, aluminum, or iron, as well as from composite materials such as steel and other alloys. Iron and steel panels are stronger, but also heavier, while aluminum is the lightest but also the least secure option. Wooden gates vary depending on the type of wood and the amount of metal reinforcement they have, and they require regular repainting to keep them protected from the elements and to maintain their beauty and curb appeal.
Looking For More Information?
If you want to learn more about driveway gates and related subjects, check out some of our other blog posts. If you're in need of gate repair and installation services in Bronx or near it, don't hesitate to give us a call.