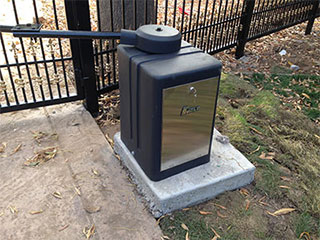 If you require the help of an experienced and skilled gate opener repair team nearby, then look no further! We have the tools and knowledge for the job, no matter how big or small. Don't let yourself be inconvenienced by a faulty opener, make an appointment today.
The Perfect Upgrade For Any Gate
If your old gate opener is failing to function correctly, there's no need to stress. Our specialists can either bring it back to life with an expert repair or provide you with a replacement. If you're leaning towards a replacement, why not take advantage of the situation and opt for a new and improved opener unit? We carry a wide range of leading brands from LiftMaster to Eagle Gate and many more. Our friendly team can help you decide on an upgraded model that fits your needs best.
Quick & Efficient Opener Repair
Due to their complex nature, automatic gate opener systems can malfunction for a number of reasons. From a motor issue to a burnt electrical wire or even a faulty sensor, opener-related issues can cause your gate to act unpredictably. Luckily, our local team has the knowledge and experience to deal with your problem with the minimum of fuss, to get you back on track as quickly as possible.
Improve Your Gate's Security
A keypad control panel is a useful additional feature to your opener. Simply input your chosen passcode into the keypad, and the gate will automatically open. Not only does this make your system more convenient to use but it also adds an extra element of safety. For added security, you can change your passcode regularly.
Don't Stress – Call The Best!
When you make an appointment with Gate Repair Bronx, you can expect to be serviced by some of the most skilled and experienced technicians around. No matter how simple or complex the issue may be, rest assured our experts will get to the bottom of the issue as fast as possible. Don't let a malfunctioning opener ruin your day – not when our experts can take care of it swiftly and professionally for you!
Count on us when it comes to:

Sliding Gate Wheels

Swing Gate Operator

Gate Remote Program

Phone Entry Systems