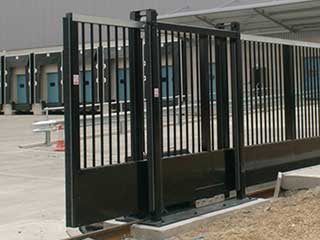 Automatic gates are crucial to the safety and security of residential homes, but they also add to the same aspects of commercial businesses, as well as to their curb appeal. The fact that unauthorized vehicles can't enter is one of the main reason such an automated system is installed. When it works, everything is well and good, but as is the case with all mechanical systems, you need to expect some wear and tear. Our technicians understand all the different parts of your gate, and what's needed to get them back to working condition again when they break down.
New Intercom Installation
Controlling who enters or leaves the premises is the main reason to have an automatic gate installed. That's where an intercom system can be your best friend. A phone entry system allows you the convenience to communicate with visitors before you let them enter, in order to verify their identity. Our technicians can help you choose and install the right type of unit that will fit your needs, including one with video surveillance that can allow you to see who's waiting at the gate, not just hear them.
An Unhinged Gate
The hinges of your swing gate see a lot of movement and are under a lot of stress. They are also exposed to the elements, which can be a bit of a problem, especially as time goes by. When the hinges wear out or break, it can create a headache of a problem, as your swing gate won't be able to move. Our technicians have the expertise and necessary equipment to weld those hinges back into place, or replace them completely.
Professional Track Repair
The track of your sliding gate is what keeps the system moving smoothly and act as a guide for the wheels. When the track gets bent or otherwise damaged, it can cause the gate to get stuck or make an awful ruckus every time it moves.
Call Us Today
Whether you are looking to install a brand new intercom system, or need to have your automatic gate repaired quickly so that your employees will be able to leave at the end of the day, our team can help. Contact Gate Repair Bronx and our experts will fix whatever you need them to fix.